Level Three may be the Main Level, but there's so much excitement and lighthearted novelty on Level One of O'Neill Library… . It didn't used to be this way. Before University Librarian Tom Wall arrived 11 years ago, it was a far less vibrant space: a microfilm room, some terrifying compressible shelving units, a tiny windowless classroom for staff training, and no way out. With the addition of a new exit providing easy access to Maloney Hall and the Commonwealth Garage, fun diner booths with flat screen monitors for casual group study, and an art gallery, Level One was on its way to becoming the most exciting level in O'Neill.
Even in 2020, sometimes the content you need is only available on microfiche or microfilm. If you don't have x-ray vision, you'll be happy to know that the equipment you need to read them is located in the same fluorescent-lit room, which incidentally gives you a small taste of what the basement used to look like (with less lighting).
If you need a cold drink, coffee, or some chips or gummy worms, you probably know that there are vending machines on Level One to satisfy the sweet and salty cravings that go with studying, but did you know there is also a machine that dispenses Wite-Out and Pepto-Bismol (for whatever ails you)? If it's your phone that's been up too many hours, there's a phone charging station (with locking compartments) near the exit.
How do you make a group of frantically studying chemistry students or math students really happy? Give them an entire study room where they are allowed–even encouraged–to write on the walls. Right in the heart of Level One, this room is the ideal space for chemical reactions, formulae, or even getting a sonnet out to the world. Special markers are necessary; these can be borrowed from the Level One desk
When it's time for a study break, head over to the graphic novel section. There are a wide variety of topics covering all areas of interest. Or check out the newest books in the collection–they're displayed on cases around the level.
Is it a law of nature (regarding the call of nature) that the hardest restroom to find will necessarily be the cleanest? If you're looking for a less stressed women's room, Level One has you covered. It does suffer a bit from poor soap dispenser placement, but that's a minor point. How do you find it? Go to the elevators and pass between them to the other side. There's also a single stall accessible bathroom immediately before the elevators.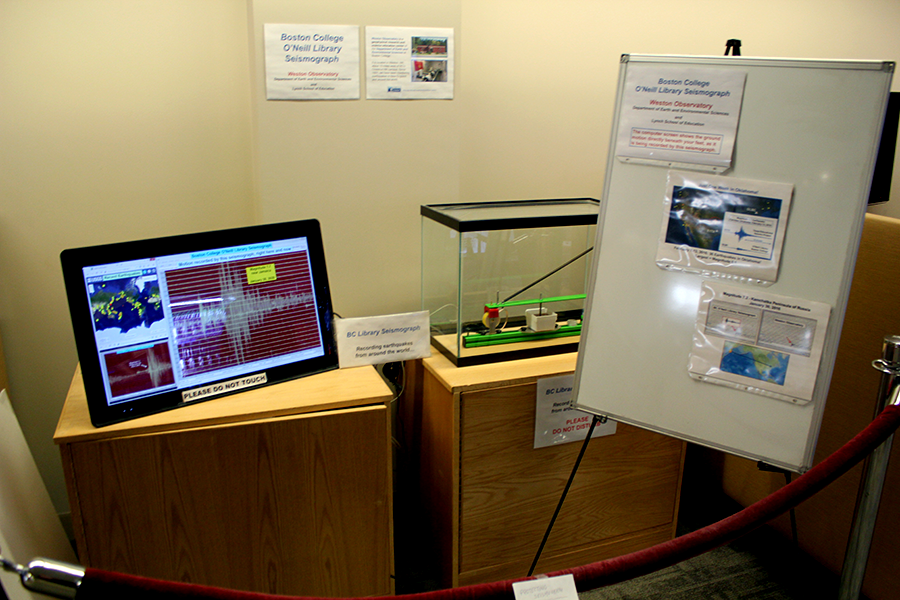 If that's not earthshaking enough, you know what is? The earth. And we are measuring the shaking right here, right now on Level One. O'Neill Library is proud to be one of a number of libraries and other educational facilities that has its own working seismograph, courtesy of the Boston College Educational Seismology Program. The live feed from the seismograph is also available online.

And sometimes Level Three is just too much like Times Square. Bypass the crowds, and do your studying, book checking out, printing, and scanning down on Level One.
Got issues? If you're faculty or staff, Level One has the Faculty/Staff Assistance Program. Visit their site for more information and to set up an appointment.
Need to drop your possessions off for a little while? Please don't leave them unattended! BC's a bit of a bubble, but bad things sometimes happen, even in the library. It's awful to come back from a quick walk and find your computer or wallet is gone. Tucked in right next to the stairs is a bank of short-term lockers to protect your stuff. There are even dedicated laptop lockers with electrical outlets.
Remember, too, that Level One has extended hours on most Friday and Saturday nights. When the rest of O'Neill shuts down at 10pm, Level One is open for studying night-owls until 2am.
Take a little while to explore next time you need a study break. There's something for everyone on Level One.